---
The Cicerone Workshop will be offered at no charge, thanks to our sponsors, and we are told that this opportunity has not previously been available at any event! The Yoga of Brewing and the Cigar Pairing Experience are also free of charge and open to those attending or participating in the Commercial Tasting.
Cicerone Workshop
Pat Fahey, Master Cicerone
---
Friday 8:30–11:30 am  Location: Breckenridge Ballroom Peak 17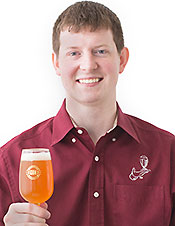 The Big Beers Festival is pleased to once again be hosting the Cicerone Program over festival weekend. As is traditional, the the Cicerone Workshop will be held from 8:30am–11:30 on Friday morning.
With the generous support of our sponsors, Pat Fahey will be presenting this informational workshop free of charge, an unprecedented opportunity for the beer lover or connoisseur.  Open to the public, topics covered in the workshop will range from storage and draft equipment to beer styles and food & beer pairing… covering almost everything you can imagine in the world of beer. It is not necessary to sign up for this workshop. Come on in and join us!
Pat Fahey is based in Chicago, and works for the Cicerone® Certification Program managing exam content, developing educational material, and administering training across the nation. Pat also regularly speaks at conferences, judges at the Great American Beer Festival, and contributes as a member of the Beer & Food Working Group.
In May of 2013, he passed the Master Cicerone® exam, becoming one of 11 Master Cicerones in the world and the youngest to ever pass the exam, and in 2014 was named one of Wine Enthusiast's Top 40 Under 40 Tastemakers.
---
Certified Cicerone Exam
---
Friday 1:30 pm  Location: Summit Gallery Peak 10

Once again, guests & participants at the Big Beers Festival will have the opportunity to become a Certified Cicerone. Recognized as the standard in the industry, the Cicerone Program offers a measurable certification with regard to knowledge of all things beer. Similar to a Sommelier designation in the world of wine, there are four levels of Cicerone Certification.
The Certified Beer Server designation is accessible online for a modest fee. The Certified Cicerone Exam is significantly more advanced, and is only offered a few times per year at locations around the country. To register for the Certified Cicerone Exam in Breckenridge at the Big Beers Festival, please contact Ray Daniels, Director, at Ray@Cicerone.org or by going to Contact Us on the Cicerone website. Ray will handle all registration and fees associated with the exam directly with you, and the exam will begin at 1:30pm at Beaver Run Resort Conference Center Summit Gallery Peak 10.
NOTE: The morning's workshop is just an overview and/or review—it should not be considered a comprehensive prep course. Those taking the afternoon Certified Cicerone exam should be prepared ahead of time, and you can view the exam syllabus and also register for this exam.