---
From Denver
Travel 98 miles west of Denver International Airport via Interstate 70.
Exit 203 at Highway 9 south to Breckenridge – 9 miles.
Beaver Run is located at the base of Peak 9 at the Breckenridge Ski Area just a few blocks from historic Main Street.
You can get more detailed driving directions via Google Maps or Mapquest or use a shuttle service listed below.
---
Bus From Denver Airport (DIA) to Breckenridge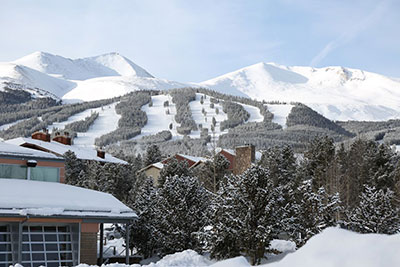 Epic Mountain Express (formerly Colorado Mountain Express) offers the following discounted rates to and from Denver International Airport.
​​Please book at least 72 hours advance of arrival.
Book Online or call 970-754-7433.
​All prices are subject to applicable taxes and fees in effect on the date of the program. Epic's services are subject to any and all policies in place at the time of the event.
Transportation Type
Cost
Shared ride service
$61 per person/ per way
5 passenger Private Full Size SUV
$398 per vehicle/ per way
10 passenger Private Charter
$478 per vehicle/ per way
10 passenger Private Sprinter
$386 per vehicle/ per way
12 Passenger Private Transit XL
$559 per vehicle/ per way
Coaches up to 49 passengers
(Based on Availability)
$1300 per vehicle/ per way
Summit Express
Phone: 855-686-8267
Peak 1 Express
Phone: 970-724-7241
Fresh Tracks Transportation 
Phone: 970-453-4052
IMPORTANT PARKING NOTE: Parking is prohibited in all town-operated parking lots between 2-6 a.m. during the months of November through April, each year. Parking restrictions are strictly enforced. Other restrictions may apply. Always check the posted signs before parking! There are 17 public parking lots situated throughout town (see below) and overnight parking is offered at the Stephen C. West Ice Arena on Boreas Pass Road and the Satellite Lots for a nominal fee.
Free public parking lots in town: Barney Ford, BGVCC North, BGVCC South, Courthouse, East Sawmill, Exchange Lower Outdoor, Exchange Lower Covered, Exchange Upper, F-Lot, French St., Ice House, Ice Rink, Klack Placer, Tiger Dredge, Tonopah, Wellington and CMC Airport.
NOTE: Due to the unpredictable need for snow removal, parking on residential streets is always prohibited in town limits.