---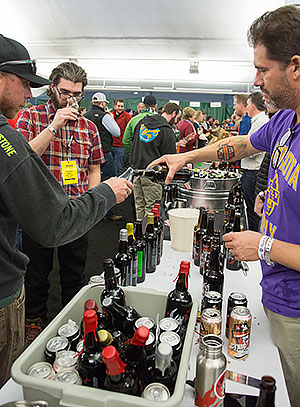 "Big Beers Fest is "the Sundance of beer festivals . . .
this [festival] is one of the special ones [with a lot of] connectivity and camaraderie. This week provides an opportunity for people [of the craft beer industry] to push pause . . . and connect with each other, with colleagues and take a load off."
– Fred Bueltmann, New Holland Brewing

---
"The camaraderie brings me back here – you can see if you look down the row [gestures to the adjacent booths] Adam Avery is here pouring his own beer, Tomme Arthur from Lost Abbey's here pouring his, so all the brewers are actually here behind the booths and you get to meet the people who make the beers that we love.
I also like meeting with my friends who are brewers, getting to ski is huge and the scale is not too big so the crowd isn't insane, and the beer IQ of the crowd is very high compared to your average beer fest."
– Sam Calagione, Dogfish Head Craft Brewery
---
"…the 2016 Vail Big Beers, Belgians and Barleywines festival once again reestablished its place as the benchmark of what all other beer festivals strive to be."
– Tristan Chan, PorchDrinking.com
---
"The Big Beers, Belgians and Barleywines Festival — now in Breckenridge — is indispensable for me as a beer writer, and a blast as a beer lover. I think that it helps set the tone for the year in terms of what beers and breweries are going to make waves. It is a chance to talk to beery movers and shakers about their opinions. And did I mention that it is an absolute blast?"
– Jonathan Shikes, The Westword
---
"I think that this is one of the most fine festivals for beer on the planet earth."

– Julia Herz, Brewers Association Craft Beer Program Director/CraftBeer.com
---
"@BigBeersFest are tremendous hosts! Passionate people & delicious beers. This #Vail getaway should be on everyone's #Beerfest bucket list."
– Fred Bueltmann (Beervangelist), New Holland Brewing Co.
---
"Easily the best beer festival on the planet!" @BigBeersFest pic.twitter.com/dy5AxYKHFm
– Mike McKim, Cuvee Coffee
---
"We get to come out here and try a lot of different beers that we haven't sampled before. Most of what we brought are very, very small production, barrel aged beers so they're really not accessible anywhere other than the brewery, so it's fun to see people's reaction."
– Chris Trogner, Tröegs Independent Brewing
---
"Honestly, I don't want to tell you anything about the Vail Big Beers Belgians and Barleywine Festival, but I must. I'd prefer not to list breweries who were in attendance, the beer celebrities who were milling around the grounds, and I especially would rather not divulge the amazing bounty of beers that was poured.
Why? Because I'm selfish and I just attended one of the best damn beer fests that I've yet to come across and I don't want you overpopulating it in the future. If you ever find yourself ready to graduate to the truly obsessive level of beer tasting, this is certainly the event to be in the know about."
– Tristan Chan, Porch Drinking
---
"The Big Beers, Belgians & Barleywines Festival is one killer beer festival. It is perhaps the most comprehensive, educational, and fun-filled festival I've ever been to and the most exciting four hours of beer tasting I've ever done!"
– Eric Steen, Focus on the Beer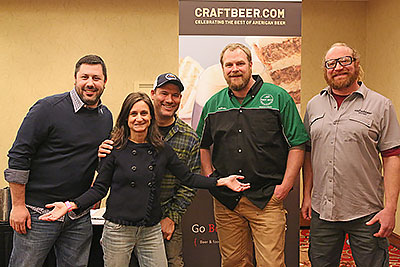 ---
"So here's the prescription: Take a couple of hundred beers, most 7% alcohol or greater with hardly a dud in the lot, add not one but two beer dinners, mix in a handful of seminars and tastings, and season with some of the best craft brewers in the land.
Put it all in an idyllic mountain setting and offer some of the lowest hotel prices and shortest tow lines Vail will see all season, and you have the fest in a fairly compelling nutshell."
– Stephen Beaumont, "Big Beers & Bigger Mountains",  Ale Street News
---
"A world class experience by world class people."
– John Carlson, Executive Director of the Colorado Brewers Guild
---
"I highly recommend this festival. There are seminars, beer dinners, a homebrew contest and a grand tasting session of over 200 different beers!"
– Michael Demers, Blogspot Review and Photos

---
"A lot of festivals have extraordinary beers. This festival has nothing but extraordinary beers."
– Gary Glass, Director of the American Homebrewers Association
---
"If you somehow got burned out on sampling the cornucopia of American beers, you could always re-ignite the flame for your love of authentic Trappist Ales (Rochefort, Westmalle, etc.). Not too many festivals include these true Belgian beauties, but including them helped us remember and appreciate those Belgian styles we all love and all too often overlook."
– Mark Robinson, BrewtallyInsane.com
---
"(Big Beers, Belgians & Barleywines) has become my favorite fest of the year. True camaraderie paired with a high level of brewing knowledge in a relaxed setting."
– J. Todd Usury, Brewery Director for Breckenridge Breweries, Denver, CO
---
"I think this festival is a really important festival for Colorado… There are very few festivals where you can have the diversity of beers that Bill puts together."
– Adam Avery, Avery Brewing Company
---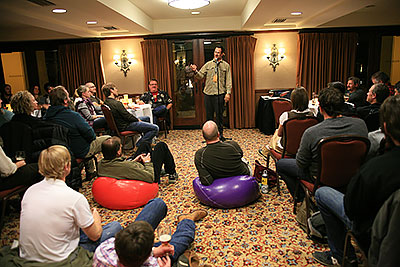 "(We) have made some friends that we see each year at this event and we look forward to it each year. For us, this festival combines snowboarding, fantastic beer, a beautiful setting, and great friends…it doesn't get much better!"
– Darrell Maudlin, Homebrewer, Houston, TX
---
"Vail Big Beers, Belgians and Barleywine blows our minds each year and continues to be one of the best in the land."
– Mark Robinson, BrewtallyInsane.com
---
"Often regarded by industry pros as one of the most diverse and well-produced beer festivals in the nation, Vail Big Beers' Commercial Tasting was anything but commercial in style. Rather, the tasting was a vibrant tapestry of brewers, big and small, bringing their A-game with a heterogeneous line-up of unique and rare brews."
– Brittany Werges, 303 Magazine
---
"The Big Beers Fest in Vail is always one of my favorite events of the year. It sells out quick and it rules."
– Sam Calagione, Dogfish Head Craft Brewery
---
"This is one killer beer festival. I look forward to it now every year, and it continues to be my very favoritist beer festival."
– Eric Steen, Focus on the Beer
---
"It was refreshing, and I hope other Brewers were taking notes, to hear Adam talk about high-alcohol brewing as a way to create flavors that age gracefully rather than a bullet train to drunkenness." (Referring to the "High Alcohol Brewing" seminar with Adam Avery and Sam Calagione)

– Rick Matsumoto, Rocky Mtn Brewing News
---
"It's one of the best festivals in the country. The sheer diversity and availability of such exotic beer styles all in one location really gives the consumer a great opportunity. Plus it's got a nice educational component that Bill Lodge has dreamed up, which encourages people to try different styles and not just stick to one thing."
– John Carlson, Colorado Brewers Guild Executive Director
---
"You've got to see the Randall in action to appreciate Sam's creativity. He calls it an 'aromatic hydrocarbon dispersion matrix' – fancy lingo for pushing beer through a hop-infested pool filter – but it works. Most interesting seminar I've ever been to!" (Referring to the "Hops and Randalling" seminar with  Adam Avery and Sam Calagione)
– Rick Matsumoto, Rocky Mtn Brewing News