---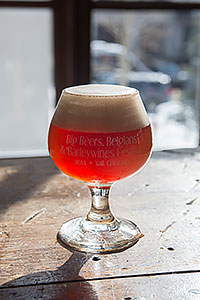 The Big Beers, Belgians & Barleywines Festival is a three day celebration of craft beer held in the majestic Rocky Mountains of Colorado. Designed as a specialty beer festival focused on education, the Big Beers Festival also offers attendees the opportunity to enjoy the winter playground of Breckenridge, Colorado and has become a destination event for beer lovers and connoisseurs around the globe.
January 9-11, 2020 marks the twentieth anniversary weekend of the Big Beers Festival, which will be held primarily at Beaver Run Resort & Conference Center in Breckenridge. In addition to the Commercial Tasting, the largest event of the weekend, attendees will have the opportunity to enjoy twelve unique educational seminars, four food and beer pairing experiences, and a myriad of additional events throughout the Town of Breckenridge.
Known for the caliber of both the event and its participants, the Big Beers Festival showcases the beers of over 150 breweries and importers while offering a gathering place for the best of the best in the industry to convene and play. A unique opportunity to meet and visit with some of the most creative and innovative brewers in the business while enjoying some of the finest beer in the world, Big Beers is an experience not to miss.
FAQ
What is a "Big Beer" at the Big Beers Festival?
The criteria required for a beer to be poured at the Commercial Tasting is that it meet one or more of the following:
It must be 7% abv or higher
It must be Belgian in style
It must be experimental in nature (and approved by event organizers)
Can I attend/participate/judge the Big Beers Homebrew Competition Judging on Friday?
All entries for the 2020 homebrew competition must be submitted by December 7, 2019. Judges & Stewards preregister online well in advance of the competition, and preference is given to those with previous experience judging or stewarding. BJCP (Beer Judge Certification Program) certification is also preferred, although professional brewers are strongly encouraged to judge with or without certification.
If you would like to stop in to see the judging area during a judging session, you're welcome to do that. However, we prefer that the judges not be disturbed during the judging sessions… and honestly, it's a lot like watching paint dry.