---
Sensory Track I: "A Glimpse into the Future of Craft Beer"


John Holl, Co-Host of Steal This Beer, Industry Journalist, Author
---
Saturday 11:30–12:20 pm  Location: Base 9 Bar, Beaver Run Resort
Join John Holl for a futuristic trip in the time machine. What will your beer look, taste, and feel like a few years of innovation down the road? Join Nile Zacherle of Mad Fritz and his team of mad scientists for their best guesses and tasty experiments.
Panelists:
Nile Zacherle, Founder and Brewmaster, Mad Fritz Brewing Co.
Andy Parker, Special Projects Manager and Barrel Herder, Avery Brewing
Paul Arney, Owner/ Brewer, The Ale Apothecary
John Holl, Co-Host of Steal This Beer, Industry Journalist, Author
John is an award-winning journalist covering the beer industry. He's the author of several books including Drink Beer, Think Beer: Getting to the Bottom of Every Pint and The American Craft Beer Cookbook.
He is the co-host of Steal This Beer, a podcast. His work has appeared in the New York Times, Washington Post, Los Angeles Times, Wall Street Journal, Wine Enthusiast and more.
John has lectured on the culture and history of beer and judged beer competitions around the world.  www.JohnHoll.com
---
Nile Zacherle, Founder/ Brew Master, Mad Fritz Brewing Co., St. Helena, CA
Nile began brewing at home in 1990, which pushed him to get a BS in Fermentation Science at UC Davis in 1997.
While at UC Davis, Nile also completed the Master Brewers Program. He began brewing and directing quality at Anderson Valley Brewing Company in Northern California.
In 1999 he moved on to assisting winemakers in Australia, France and back in Napa Valley. Nile currently makes wine for David Arthur Vineyard as well as operating Mad Fritz Brewing Co.
Mad Fritz began in 2014 and was named after his two children Madeleine and Fritz. Their focus is on growing their beers by malting and brewing with a 'Farm to Foam' approach. The sourcing of single variety barleys that are craft-malted with an origin, as well as hops and water sourcing defines the beer styles in what they call 'Origin Beer'.
---
Andy Parker, Special Projects Manager & Barrel Herder, Avery Brewing Co., Boulder, CO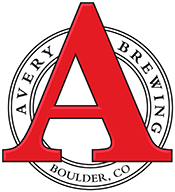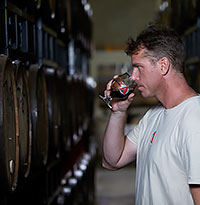 As "chief barrel herder" for Avery Brewing Co., Andy oversees one of the more expansive barrel-aging programs of any brewery in the US. He and his crew manage a field of around 3,000 oak barrels, producing both clean and sour beers, one-offs and constant releases, all while running new experiments on a daily basis.
Parker is well-known among professionals as a consummate brewer's brewer, with a deep knowledge of mixed-culture fermentation and a finely honed palate. Despite his penchant for brewing 15%+ barrel-aged stouts, Parker consumes more pilsner than any other style of beer.
---
Paul Arney, Owner/ Brewer, The Ale Apothecary, Bend, OR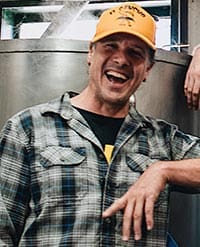 Paul began his professional brewing career in 1995 with internships at Maritime Pacific and Glacier Peak breweries in Washington state.
In 1996 he attended the Master Brewers' program at UC Davis which landed him a job at Deschutes Brewery in Bend, Oregon. He worked as a pub brewer, production brewer and assistant master brewer on 3 vastly different brewhouses at the rapidly growing company and helped design some of Deschutes' most famous beers during that time.
In 2011, without a plan for the future, he left Deschutes instead of accepting a promotion to a desk job. By May of that year, he had emptied his 401k account and began building The Ale Apothecary on his property in the mountains outside of Bend, and the rest is history.
Paul lives with his wife of 23 years and 2 children in the house attached to the brewery and only misses the garage on really snowy mornings.
Note: This seminar will accommodate 60 people. Purchase Your Seat now.
Sensory Track II
Sensory Track II: "Bubbles or Not? A Sensory Exploration"
Dr. Nicole Garneau, Owner/ Educator of Dr. Nicole Garneau, LLC
---
Saturday 12:45–1:35 pm  Location: Base 9 Bar, Beaver Run Resort
Why do some beers taste so amazing on nitro, and some don't? Why do some beers have the fullest flavor in cask/firkin format and others truly fall flat? Dr. Nicole will take you on her sensory journey to find answers to these questions about why – scientifically – your bubble choices make such a difference in the flavor expression of the beer in your hand.
Panelists:
Kevin DeLange, Co-Founder/Co-Owner, Dry Dock Brewing Co.
Alan Simons, Managing Brewer, Dry Dock Brewing Co.
Dave Cole, Co-Founder/ Co-Owner, Epic Brewing
Eric Wallace, Co-Founder/ President, Left Hand Brewing Co.
Dr. Nicole Garneau, Owner/ Educator of Dr. Nicole Garneau, LLC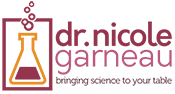 Dr. Garneau is a taste scientist and keynote speaker who brings flavor science to the table. Her formal training in genetics and microbiology led her to the Denver Museum of Nature & Science where she directs the Genetics of Taste Lab and leads beer pairing research through the crowdtasting model pioneered by the Beer & Food Working Group.
In addition to her day job, she is the founder of three companies related to her work studying taste and her interest in food and beverage science. In this capacity, Dr. Garneau serves as keynote speaker and consultant to breweries, wineries, distilleries, food companies, and restaurants. She is the co-author of the Beer Flavor Map and co-founder of the company DraughtLab.
---
Panelists:
Kevin DeLange, Co-Founder/ Co-Owner, Dry Dock Brewing Co., Aurora, CO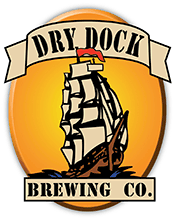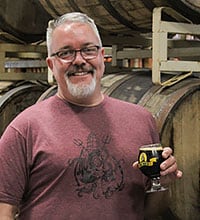 Kevin is an Iowa native, a history buff, and a homebrewer at heart. He has a Masters of History from Iowa State University, and he moved to Colorado in 1998 to work as an educational administrator for proprietary schools.
Kevin went on to manage The Brew Hut homebrew supply shop that he and his business partner, Michelle Reding, purchased in 2002. Three years later, he and Michelle launched a small 900 sq ft brewery in the back of the shop.
Dry Dock Brewing Co. has expanded into two locations that produce 20,000 BBL annually. Since opening 14 years ago, Dry Dock has won 24 Great American Beer Festival medals and 8 World Beer Cup Awards, including GABF Small Brewing Company of the year in 2009.
---
Alan Simons, Managing Brewer, Dry Dock Brewing Co., Aurora, CO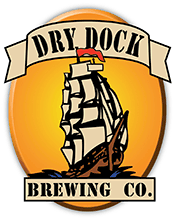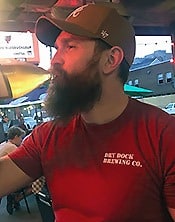 Alan left a job in real estate to chase a career in beer. He fortuitously landed at Backcountry Brewery in Frisco, CO in 2008, and quickly worked his way into the Head Brewer and Director of Brewery Operations position where his passion for all things beer flourished.
In 2015, Alan joined Dry Dock Brewing Company in Aurora, CO and currently manages both brewing facilities. He is involved in all areas of brewing and production.
Alan's brewing resume includes numerous NABA, GABF, and World Beer Cup awards.
---
Dave Cole, Co-Founder/ Co-Owner, Epic Brewing, Salt Lake City, UT
David Cole and his partner, Peter Erickson, are the founders and co-owners of Epic Brewing Company. Cole and Erickson, originally from California, started an international aquaculture company in Utah in 1992. In 2008, Utah law changed allowing these two entrepreneurs to pursue their longtime dream of opening a strong beer microbrewery in Utah, like those they frequented in the Golden State.
Admittedly, beer geeks, foodies and "Epic" adventure junkies, they share a passion for making and drinking fine ales and lagers. The Epic team has a strong belief in doing everything "all out."
Epic Brewing Company opened in Salt Lake City, Utah with six fermentation tanks giving it the flexibility to create a variety of small batch, artisanal beer. Within a few short months, Epic began earning medals for its beers domestically and internationally. The beer became a big hit with locals and out of state visitors alike and demand quickly increased. The brewery currently houses eight times its original fermentation space.
Three years later, in 2013, Epic expanded its brewery operations into Colorado by opening a second brewery in the River North district of downtown Denver. The Denver brewery offered enough space to support growing national distribution, expansion of the popular barrel aged beer program and the introduction of a line of sour beers. Along with these improvements the addition of a "proper" tap room featuring 25 taps was a long awaited realization, allowing Epic to feature its substantial beer selection on draught.
Despite the rapid expansion and increase in production volume Epic Brewing has stayed committed to its founding principal of small batch, artisanal beer. Every batch released in the Elevated and Exponential series is numbered, stamped, and release information is published online. Currently brewing 39 plus beers Epic believes there is a beer for every person and every occasion.
---
Eric Wallace, Co-Founder/ President, Left Hand Brewing Co., Longmont, CO
Bio to come.
Note: This seminar will accommodate 60 people. Purchase Your Seat now.