---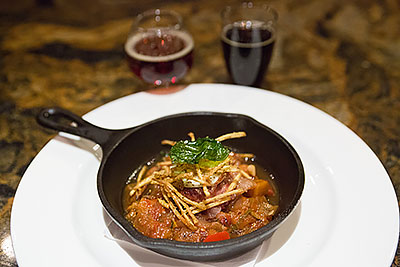 If you love craft beer, you must come have dinner with us! The 2019 events will be a tremendous treat. The original weekend event was suggested by Sam Calagione of Dogfish Head Craft Brewery, and much ado has been made of them by our guests. The celebrity beer pairing dinners show off the ultimate flexibility of beer with food.
As varied as the Calibration Dinner is consistent, the Traditional Brewmasters' Dinner is hosted by different celebrated brewmasters each year, showcasing their portfolios of fantastic beer. Two brewmasters are invited to be the Big Beers Featured Brewmasters annually, to co-host this amazing dinner and to offer an educational seminar on a topic of their choosing. All Big Beers dinners feature one beer from each brewery for each course, resulting in a "double-beer pairing" dinner of elevated culinary complexity and commentary by both hosts throughout the evening.
Your Traditional Brewmasters' Dinner Culinary Host is Dan Hoyle and Adam Dulye:
Corporate Chef, Dan Hoyle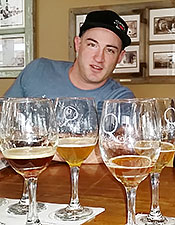 The 2019 culinary host of the Traditional Brewmasters' Dinner is Quandary Grille in Main Street Station on Maggie's Pond in Breckenridge.
Quandary Grille is part of All Events & Catering, with other sister restaurants locally. Corporate Chef Dan Hoyle has enlisted other chefs from the AEC family and will be collaborating with Brewers Association Executive Chef Adam Dulye for the dinner as well.
Dan's bio coming soon!
---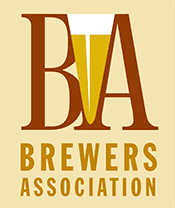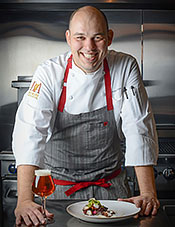 Chef Adam Dulye (pronounced "doo-lee") is executive chef for the Brewers Association and CraftBeer.com. Dulye is a Culinary Institute of America graduate who has helmed kitchens with a craft beer focus from the mountains of Colorado to San Francisco, California.
Dulye also oversees culinary side of SAVOR®: An American Craft Beer and Food Experience, Paired at the Great American Beer Festival®, and the World Beer Cup® and is co-author of the CraftBeer.com Beer & Food Course.
---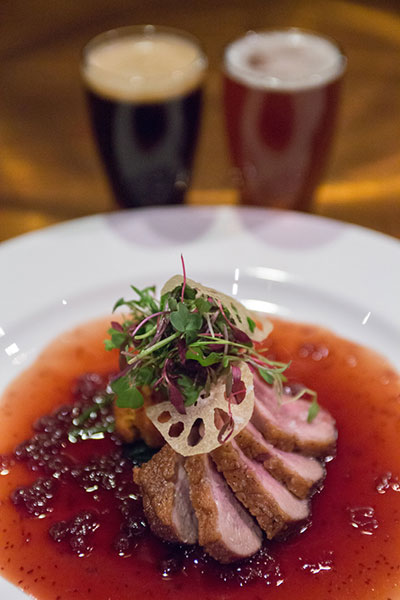 This year our Featured Brewmasters are yet to be finalized. We will announce them as soon as we have everything locked into place.
---
Now that you are familiar with this year's Hosts, here's an overview of the Dinners themselves: The format of the Big Beers Festival Brewmasters' Dinners is rather unique. They are "double" beer pairings in the full sense of the term. The chef for each dinner is challenged to design a menu around the creations that the Brewmasters offer. Each course features one beer from each brewery, therefore considerably more difficult than a single pairing for each. And Chef is pairing five courses for each dinner, which makes for an incredible beer adventure as well!
This year our Featured Brewmasters have agreed to follow the historical precedent of donating product and assisting us with our special event, and it has made it possible to keep the cost of dinner to our guests quite reasonable. You can Purchase Tickets online. Should an event be sold out, a waiting list will be kept by the coordinator, and you can contact us directly. Cancellations are fully refundable, providing that we can rebook your seat. (Thus, refunds will only be issued after the replacement reservation has been paid in full.)
For historical Brewmasters' Dinner information, check out Dinner Menu Archives. All previous Brewmasters' Dinner menus are available, as well as Marty Jones' review of our first Brewmasters' Dinner.