---
Friday, January 10, 2020 | 3:00–4:30 pm Village at Breckenridge at Sauce on the Maggie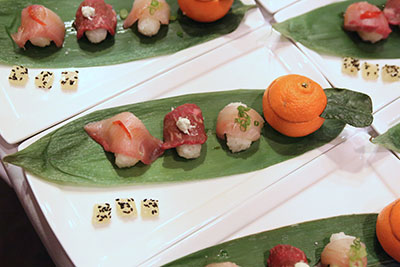 Add to Calendar
Our 2020 Small Plates & Craft Beer Pairing event will be held in Breckenridge at Sauce on the Maggie in the Village at Breckenridge, near Main Street Station. Join us for four small plates created by celebrated chefs from the All Events Catering culinary team and guest Chef Adam Dulye of CraftBeer.com/BA, to pair delightfully with each of two beers; from Two Roads Brewing Co., and Fremont Brewing Co.
Learn about each brewery, the beers they are showcasing and discover the inspiration behind the pairings from the Chef and his team. This is a seated, plated event that will begin at 3:00 on Friday afternoon.
John Holl, Co-Host of Steal This Beer, Industry Journalist and Author, will be the Master of Ceremonies for this event, leading the discussion between courses and visiting with chefs and brewmasters in turn.
The 2020 culinary host of the Small Plates & Craft Beer Pairing event is Sauce on the Maggie, one of several local restaurants owned and operated by the All Events Catering family. Heading up the culinary team for the Sauce Family will be Chef Michael Irwin, Head Chef at Sauce on the Creek in Avon, CO. Chef Irwin will be supported by the Sauce on the Maggie culinary team and guest chef Adam Dulye.
---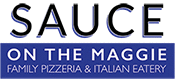 Sauce on the Maggie Breckenridge Italian Restaurant is located in the Village at Breckenridge, overlooking the Maggie Pond. Sauce on the Maggie features an old world Italian cuisine featuring longtime customer favorites and house specialties like the Penne Gorgonzola and Rigatoni and Sausage, Grilled Atlantic Salmon and Hand Tossed Pizza. Our menu has been refined since the restaurants birth in Keystone in 1999. After moving to Breckenridge in 2004 we have carved out our place for fine Italian dining in Breckenridge.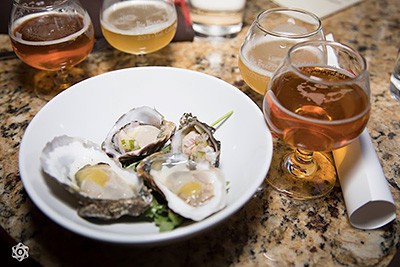 Steeped in years of family tradition from the Sauce on the Maggie's history of Italian restaurants from the east coast to Breckenridge, we specialize in family style dining, which is great for larger tables to come in and sample from several dishes being passed around the table like in the old country.
Sauce on the Maggie Italian Restaurant is located in The Village at Breckenridge below the clock tower at 655 S. Park Ave., Breckenridge, CO 80424.
Free Parking is available in F Lot (after 3 pm), directly across Park Ave. from the entrance to the Village at Breckenridge, there is also free, heated underground parking in the Village at Breckenridge (2 free hours) and the Main Street Station.
---
Chef Michael Irwin, Head Chef, Sauce on the Creek, Avon, CO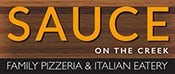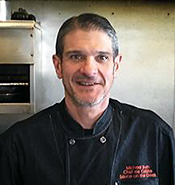 Michael Irwin had started his career in the Vail Valley in 1994 working at Sweet Basil. In 1999 he left Sweet Basil to open Larkspur with Thomas Salamonovich. Over the course of his early days working in kitchens, Mike's path allowed him to work in some of the best known restaurants in Vail.
After opening Larkspur, Mike's path as a chef led him to open Juniper in Edwards with partner Doug Able. Seven years of love and labor were spent in Larkspur during which Mike experienced the death of his father and the birth of his two sons, motivating him to his next level of greatness as a chef.
Mike's next challenge in the kitchen came as he left Juniper to work at neighboring Main Street Grill. His tasks at hand at Main Street were to redo the menu items and create a fresh take on some old ideas.
In 2010 Zino II opened with Mike acting as chef and partner in the business. Not feeling fulfilled with this new venture, Chef Mike went out on his own and entered the cratering business. After a quick stint opening the Corner Bistro in Edwards, his path led him to Avon's newest family style Italian eatery, Sauce on the Creek.
Sauce on the Creek has allowed chef Mike's talent to shine by creating daily specials that are not just Italian based. Life in the Vail Valley has changed for Mike many times over the years but his passion and love for cooking has always remained the same.
---
Adam Dulye, Executive Chef, CraftBeer.com and Brewers Association
Chef Adam Dulye (pronounced "doo-lee") is executive chef for the Brewers Association and CraftBeer.com. Dulye is a Culinary Institute of America graduate who has helmed kitchens with a craft beer focus from the mountains of Colorado to San Francisco, California.
Dulye also oversees culinary side of SAVOR®: An American Craft Beer and Food Experience, Paired at the Great American Beer Festival®, and the World Beer Cup® and is co-author of the CraftBeer.com Beer & Food Course.
---
Your Small Plates & Craft Beer Pairing hosts:
Matt Lincecum, Founder/ Owner, Fremont Brewing Co., Fremont, WA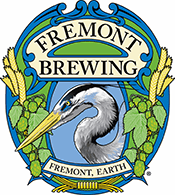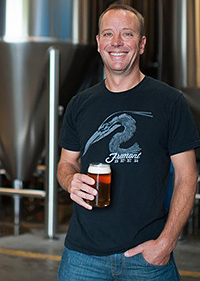 Matt is a long-time environmentalist, community organizer, and home brewer. But to make a living, he became an attorney and specialized in beverage and hospitality law. As fun as that sounds, Matt decided that instead of spending his time making other people's dreams of owning a bar or restaurant or brewery come true, he should realize his own latent and undisclosed-to-his-wife desire to start a brewery.
Fremont Brewing was born in 2009 and has grown to become Washington state's second largest independently owned brewery. Fremont has received national recognition for their barrel aged beers and also the largest fresh hop beer release in craft, alongside their highly drinkable IPAs and emerging mixed-fermentation beers.
In addition to Fremont's beer accolades, they also take environmental, social, and economic sustainability very seriously. They strive to reduce their carbon footprint as much as possible through energy conservation and zero waste production processes, and are active in building a sustainable, local supply chain of hops and malt. Fremont also provides their employees the best possible benefits and give back to the community that has so generously supported them throughout the years… Because it's the right thing to do. Because Beer Matters.
---
Phil Markowski, Master Brewer/Co-Founder, Two Roads Brewing Co., Stratford, CT
Master Brewer Phil Markowski comes from an engineering background. After dabbling in home brewing and winning a few competitions back in the 1980s Phil made the bright decision to go into the craft beer world as a career.
A long career at various breweries has led to dozens of medals from the GABF and WBC, along with many other medals at regional and international competitions. Phil also wrote the book on Farmhouse Ales, literally, and is thrilled to be in his dream job: working with friends to create a brewery from scratch with state-of-the-art equipment.
---
Now that you are familiar with this year's Hosts, here's an overview of the Dinners themselves:
The format of the Big Beers Festival dining events is rather unique. They are "double" beer pairings in the full sense of the term. The chef for each dinner is challenged to design a menu around the creations that the Brewmasters offer.
Each course features one beer from each brewery, therefore considerably more difficult than a single pairing for each. And Chef is pairing four courses for the Small Plates event, which makes for an incredible beer adventure as well!
This year our Small Plates & Craft Beer Pairing featured breweries have agreed to follow the historical precedent of donating product and assisting us with our special event, and it has made it possible to keep the cost of dinner to our guests quite reasonable. You can Purchase Tickets online. Should an event be sold out, a waiting list will be kept by the coordinator, and you can contact us directly. Cancellations are fully refundable, providing that we can rebook your seat. (Thus, refunds will only be issued after the replacement reservation has been paid in full.)
For historical Brewmasters' Dinner information, check out the Dinner Menu Archives. All previous Small Plates & Craft Beer Pairing menus are available, as well as Marty Jones' review of our first Brewmasters' Dinner.