---

Parking
Parking is limited in Breckenridge, so we've added some links to help you be prepared and navigate the town more easily.
Overnight Parking Also includes oversize, longer term, "liable to still be empty during a busy day" parking ($5). The two bus lines that stop in this lot are:

Red Route: This stop in the middle of the parking lot and to the central bus station.
Yellow Route: This stop is near the entrance to the parking lot on Airport Road and goes to Beaver Run eventually.
There is more information about the bus (Free Ride) and routes below.
---
Local Transportation
Free Ride (Breckenridge Bus)

The Free Ride is a collaborative service of the Town of Breckenridge and the Breckenridge Ski Resort providing free public transportation service in Breckenridge. The use of mass public transportation is one of the key sustainability platforms of the Town of Breckenridge.
---
Summit Stage (Summit County Bus)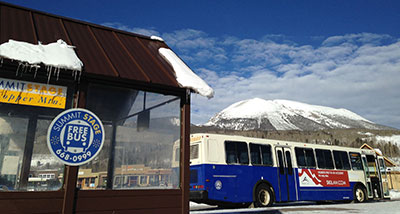 Summit Stage offers free public bus service throughout Summit County, Colorado, with service to ski areas, lodging, downtown areas, shopping, medical centers and some residential areas.
All stops are by request: in advance of your stop, pull the cord to alert the driver.
SmartBus system allows you to view real-time bus locations on their routes. Riders can access real-time information about routes, stops and bus locations from a variety of devices.
---
Shuttle From Denver Airport (DIA) to Breckenridge
Epic Mountain Express (formerly Colorado Mountain Express) offers the following discounted rates to and from Denver International Airport.
​​Please book at least 72 hours advance of arrival.
Book Online or call 970-754-7433.
​
Transportation Type
Cost
Shared ride service
$61 per person/ per way
5 passenger Private Full Size SUV
$398 per vehicle/ per way
10 passenger Private Charter
$478 per vehicle/ per way
10 passenger Private Sprinter
$386 per vehicle/ per way
12 Passenger Private Transit XL
$559 per vehicle/ per way
Coaches up to 49 passengers
(Based on Availability)
$1300 per vehicle/ per way
All prices are subject to applicable taxes and fees in effect on the date of the program. Epic's services are subject to any and all policies in place at the time of the event.