---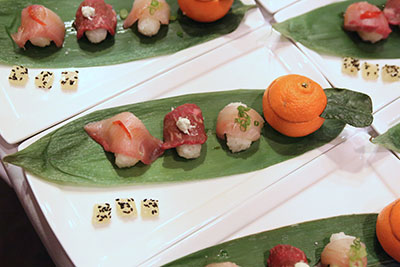 Our 2018 Small Plates & Craft Beer Pairing event was held in downtown Breckenridge  at Modis. Join us for four small plates created by the Modis culinary team to pair delightfully with each of two beers; from Black Project Spontaneous & Wild Ales and Melvin Brewing Co.
Learn about each brewery, the beers they are showcasing and discover the inspiration behind the pairings from the Chef and his team. This is a seated, plated event that will begin at 4:00 on Friday afternoon.
John Holl, Senior Editor of Craft Beer & Brewing Magazine, will be the Master of Ceremonies for this event, leading the discussion between courses and visiting with chefs and brewmasters in turn.
The 2018 culinary host of the Small Plates & Craft Beer Pairing event is Modis.
---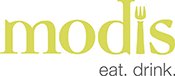 Modis is Colorado contemporary dining in a vibrant and eclectic atmosphere located in the heart of historic downtown Breckenridge where we focus on the art of food, cocktails, music, and life.
Modis first opened in June of 2007 by the creative team of Eric Mamula & Ian Hamilton; who created the Breckenridge staple: Downstairs At Eric's. They had a vision of a contemporary restaurant on Main St. that would join the growing ranks of foodie havens available in Breckenridge. In late 2012 Eric & Ian turned over their creation confident that Teryn Guadagnoli was the right person to build on the legacy they had established.
Modis is the realization of a dream to offer the best food, wine, and cocktails in an atmosphere that is contemporary yet honors the history and feel that is Breckenridge. Today at Modis you can expect to find menus that showcase the best in food, wine, & cocktails available incorporating the newest & most innovative preparations. We actually call the bar & kitchen the science labs. The staff is fully engaged in this creative process and is encouraged to experiment to ensure your dining experience is a memorable one. We hope you are inspired and continue to join us on this creative journey that is Modis.
---
Your Small Plates & Craft Beer Pairing hosts:
Jeremy Tofte, Co-Founder/Field Hoperative, Melvin Brewing Co.
Jeremy, like all good modern day drinkers, is all heart & soul when it comes to craft beer. He founded Thai Me Up restaurant in Jackson Hole, WY in 2000. He was working as a waiter in the current Thai Me Up space and just like most restaurants in the most expensive town in America, it went under.
Being the hustler that he is, he talked the landlord into giving him the keys to the space. After painting the walls and learning Thai food, he opened and immediately started ruining people's vacations by playing loud hip hop and Kung Fu while having fun at work.
Fast Forward six years: After the town of Jackson refused to give him a liquor license for the 4th time to start his dream brewery and instead kept giving them to the 1%, he sold TMU on Ebay (yep) and spent the next two years surfing in New Zealand, Australia and Indonesia.
But the good lord would not let the dream end there! Just like most restaurants in the most expensive town in America, Thai Me Up went under and the landlord called him up and gave him the place back! No shit? Amazing. Selling his 1984 Mercedes wagon to pay for a 20 gallon brewing system, he reopened Thai Me Up as a brewery and started the swing towards Melvin in 2009.
Jeremy was born in Montana, and grew up in both Oregon and Northwest, WA where he began working at a beer distributorship in High School. Jeremy made the mistake of going to college in Bend which only made his snowboarding and "microbrew" habit worse. He later received his degree from Portland State in some mundane subject as we all know that is the easiest school in Oregon.
After some years in Portland, and chasing pow all over the Western US, he moved to Jackson Hole in 1995 where his life has been crumbling underneath him ever since. His other interests include making fun of bad brewery names. Jeremy is entirely committed to having the most fun, brewing the best beer, and making the most people laugh on any given day.
---
James Howat, Brewer, Blender, Commander-in-Chief, Black Project Spontaneous & Wild Ales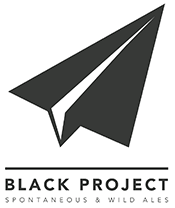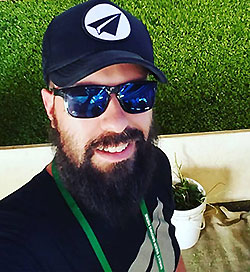 James Howat is the founder of Former Future Brewing Company, a Denver taproom brewery that opened in February 2014. Former Future produced a wide range of beer styles that are futuristic "remixes" of oft-forgotten historical recipes and techniques.
James took the idea of historical methods to the extreme with Black Project Spontaneous & Wild Ales, a two time GABF Medal winning sour beer brand that ferments beer using only un-isolated wild microbes captured from the Denver air using a rooftop coolship.
After 3 years of increasing capacity for this spontaneous fermentation program, Black Project replaced Former Future as the brewery's sole brand and focus. The tasting room, brewery, and barrel cellar are located at 1290 S. Broadway in Denver, CO. Black Project is proud to be the only Colorado brewery using 100% native wild yeast and other microflora to ferment its beers.
Now that you are familiar with this year's Hosts, here's an overview of the Dinners themselves: The format of the Big Beers Festival dining events is rather unique. They are "double" beer pairings in the full sense of the term. The chef for each dinner is challenged to design a menu around the creations that the Brewmasters offer. Each course features one beer from each brewery, therefore considerably more difficult than a single pairing for each. And Chef is pairing four courses for the Small Plates event, which makes for an incredible beer adventure as well!
This year our Small Plates & Craft Beer Pairing featured breweries have agreed to follow the historical precedent of donating product and assisting us with our special event, and it has made it possible to keep the cost of dinner to our guests quite reasonable. You can Purchase Tickets online. Should an event be sold out, a waiting list will be kept by the coordinator, and you can contact us directly. Cancellations are fully refundable, providing that we can rebook your seat. (Thus, refunds will only be issued after the replacement reservation has been paid in full.)

For historical Brewmasters' Dinner information, check out the Dinner Menu Archives. All previous Small Plates & Craft Beer Pairing menus are available, as well as Marty Jones' review of our first Brewmasters' Dinner.