---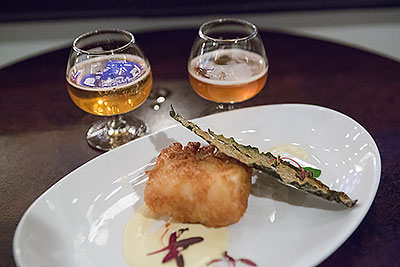 As has become celebrated tradition, the Calibration Dinner opened our 18th Anniversary weekend and welcomed our guests to Breckenridge.
Adam Avery and Sam Calagione created the first Big Beers, Belgians & Barleywines dinner in 2005, and shortly after the Calibration Dinner was established as an annual feature. Avery Brewing Co. and Dogfish Head Craft Brewery continue to anchor the festival on Thursday night, and the Big Beers Festival  is pleased to continue this tradition.
For the 2018 Calibration Dinner, Adam Avery will be joined by Bryan Selders, former head brewer and now brewing ambassador for the new Dogfish Head Rehoboth Beach brewpub.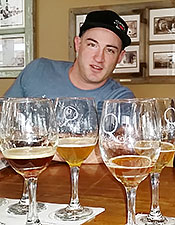 The 2018 culinary host of the Calibration Dinner is Quandary Grille in Main Street Station on Maggie's Pond in Breckenridge. Quandary Grille is part of All Events & Catering, with other sister restaurants locally. Corporate Chef Dan Hoyle has enlisted other chefs from the AEC family and will be collaborating with Brewers Association Executive Chef Adam Dulye for the dinner as well.
---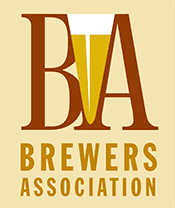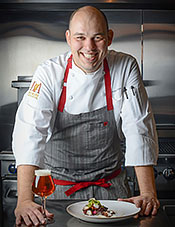 Chef Adam Dulye (pronounced "doo-lee") is executive chef for the Brewers Association and CraftBeer.com. Dulye is a Culinary Institute of America graduate who has helmed kitchens with a craft beer focus from the mountains of Colorado to San Francisco, California. Dulye also oversees culinary side of SAVOR®: An American Craft Beer and Food Experience, Paired at the Great American Beer Festival®, and the World Beer Cup® and is co-author of the CraftBeer.com Beer & Food Course.
---
Your Calibration Dinner Brewery Hosts:
Adam Avery, Founder/Brewmaster, Avery Brewing Company, Boulder, CO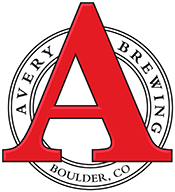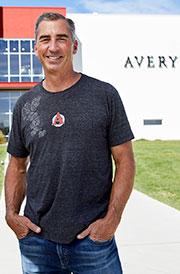 "My love of beer began as an infant. My aunt would put a few drops of the precious liquid on my pacifier to ease the pain of teething. My passion grew through the years as my parents had a "European attitude" towards alcoholic beverages. As I grew into adulthood, I found it difficult to find brands that challenged me. My tastebuds required more flavor than breweries at that time were creating.
I was forced to homebrew. All kinds of strange concoctions poured from my kitchen. The cases stacked up… my friends and I couldn't quaff as fast as I brewed. The creations, I was told, were great. "Start a brewery!" they said. So with the aid of Dad and his friend, Steve Wagner, I turned my hobby into a profession.Twenty years later, my singular goal is to challenge your tastebuds, taking brewing to another level of flavor, quality, and consistency. I am……a beer junkie!"
---
Bryan Selders, Brewing Ambassador, Dogfish Head Brewing & Eats, Milton, DE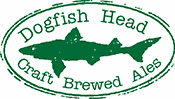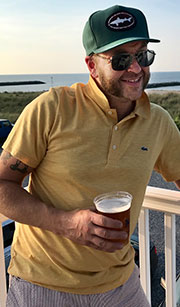 Bryan Selders hails from the Philadelphia area where he attended Tyler School of Art earning a Bachelors in Fine Art. During his years in college he developed an affinity for craft beer and began homebrewing. Following his graduation from art school, his passion for craft beer and brewing lead him to an apprenticeship at a small Philadelphia brewery and he soon entered the beer industry as a professional.
Working his way up through the ranks of a couple of local breweries, he found himself a pub brewer at Nodding Head Brewery in the heart of the city. Soon Dogfish Head in Delaware came calling and invited Bryan to join the off-centered team as lead brewer.
During his nine years at Dogfish Head, Selders' experience in the industry grew along with his wide ranging responsibilities. As lead brewer he was responsible for process development, brewery management, raw material procurement, production scheduling and team development. At the core of his experience and knowledge is a deep understanding of recipe formulation and implementing good production practices to create some of the most unique and talked about brands in the market. From his arrival at a production level of 7000 barrels he played a key role in the growth of the company to nearly 120,000 barrels at the time of his departure while managing a portfolio of 34 active brands and an ever growing staff and facility. His keen attention to detail and focus on quality was critical in this success.
Bryan's creative side has never left him. Always curious about the what if, his openness to ideas and out of the box thinking helped keep Dogfish Head on the cutting edge of beer innovation. He brings an artist's sensibility to his craft to create uniquely engaging beers. Bryan has also been heavily  involved in many of the brewery's creative endeavors from label design and marketing collateral to being half of the Pain Relievaz who have been touted as the most influential beer-geek hip hop band of their generation.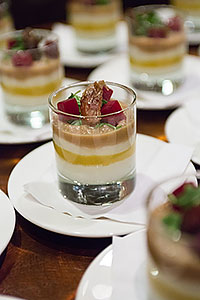 In 2014, Bryan partnered with the Big Red F Restaurant Group to open The Post Brewing Company in Lafayette, CO. As brewmaster/partner of The Post Brewing Company, he brought with him a rich knowledge of brewing and  a high level of experience. Committed to delivering creative and unique beers of great quality and consistency, his beer program at The Post focused on total enjoyment delivering flavorful, balanced and drinkable beers that are at home with a terrific meal or a great conversation with friends. The beers are refreshing takes on styles that are steeped in American brewing tradition which are engaging and inviting and are something you will want to put in your mouth repeatedly. In his time at The Post, the beers gained recognition in national beer publications and earned two medals at The GABF; silver in 2014 for Howdy Beer and Gold in 2016 for Achtertuin Seizoen.
After three years of hard work and amazing growth, Bryan left The Post to return home to Delaware and to Dogfish Head. He now works as Brewing Ambassador; a role in which he maintains the experimental pub exclusive brewing program along with educating co-workers and the public on all things beer and Dogfish.
Bryan has been featured on television and movies such as 2009's Beer Wars film, History Channel's Modern Marvels and the Discovery Channel series Brew Masters. He has presented at the Craft Brewers' Conference as well as MBAA events. He's also published articles in Zymurgy Magazine and has contributed to numerous brewing books.
Now that you are familiar with this year's Hosts, here's an overview of the Dinners themselves: The format of the Big Beers Festival Brewmasters' Dinners is rather unique. They are "double" beer pairings in the full sense of the term. The chef for each dinner is challenged to design a menu around the creations that the Brewmasters offer. Each course features one beer from each brewery, therefore considerably more difficult than a single pairing for each. And Chef is pairing five courses for each dinner, which makes for an incredible beer adventure as well!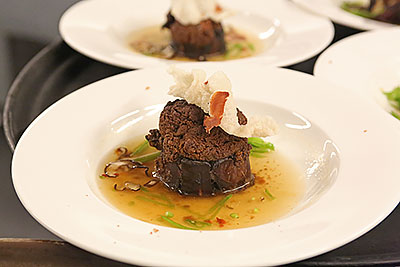 This year Avery Brewing Co. & Dogfish Head Craft Brewery have agreed to follow the historical precedent of donating product and assisting us with our special event, and it has made it possible to keep the cost of dinner to our guests quite reasonable. You can Purchase Tickets online. Should an event be sold out, a waiting list will be kept by the coordinator, and you can contact us directly. Cancellations are fully refundable, providing that we can rebook your seat. (Thus, refunds will only be issued after the replacement reservation has been paid in full.)
For historical Brewmasters' Dinner information, check out Dinner Menu Archives. All previous Brewmasters' Dinner menus are available, as well as Marty Jones' review of our first Brewmasters' Dinner.