---
Technical Track I: "Good Bugs: Flavor Expression of Fermentation"
Jensen Cummings, Creator, Brewed Food, Denver, CO
---
Saturday 12:00–12:50 pm  Location: Imperial Ballroom, Beaver Run Conference Center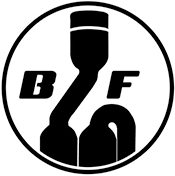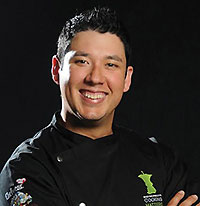 To say that Jensen Cummings was born into the restaurant world is an understatement! Jensen is a fifth generation Chef and Restaurateur.
His family opening their first restaurant, La Fond House in the year 1900 in Little Falls, Minnesota. Spending time working for his uncle's restaurants and stint cooking along-side acclaimed chef Debbie Gold in Kansas City, Chef Cummings now calls Denver his home.
During his time in the Mile High City his Chef credits include running the kitchens at Kevin Taylor's, TAG Restaurant, ROW 14 and as Chef/Owner of Slotted Spoon. As CEO of Fortune Cookie Concepts, a premier culinary consulting firm, he has developed beer-centric projects like Rackhouse, The Lobby and Crafty Fox.
Chef Cummings, a long-time beer aficionado, was also the first chef in Colorado to attain the rank of Certified Cicerone. Now, he has turned his focus to Brewed Food, a collective food (and beer) movement with a core philosophy of cooking with brewing ingredients and techniques, rather than the norm of cooking with finished beers. Bringing together chefs and brewers is giving way to a revolution to take beer and food to a level rivaling food and wine!

Jensen's panelists include the following:
---
John Giarratano, Inland Island Yeast Co.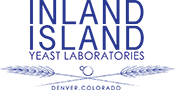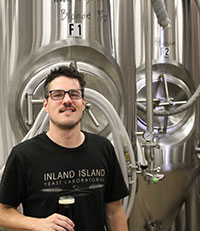 John Giarratano received his Bachelor's degree in Molecular, Cellular and Developmental Biology from the University of Colorado and a Master's of Science in Bioengineering from Denver University.
John spent five years working in Clinical Cell Culture Operations for Genentech, a pharmaceutical giant in California. During this time he became an expert in technology transfer, sterile technique and Good Manufacturing Practice (GMP).
Next, John worked for a biofuel company called Gevo, focusing on scale up from 20L to 1.0E6L production fermentations. During this time he helped design and build several pieces of novel and proprietary equipment for use in yeast propagation and fermentation.
In August of 2014, John Co-Founded Inland Island Yeast Laboratories.  Since then he has continued to develop Inland Island's yeast propagation techniques and facility as well as helping breweries to implement yeast management and QA/QC programs.
---
Troy Casey, Casey Brewing & Blending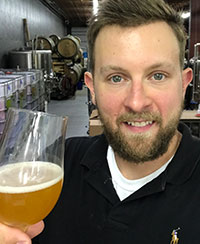 Troy Casey has a degree in Chemistry from University of Colorado at Colorado Springs, Masters in Food Science from University of California at Davis, Diploma Brewer degree from the Institute of Brewing and Distilling and a Phd from the School of Hard Knocks Small Business Program.
Over the last 13 years, Troy has worked for Bristol Brewing Company, Coors Brewing Company, Anheuser Busch, AC Golden and most recently as founder at Casey Brewing and Blending in Glenwood Springs, Colorado. He's personally visited dozens of other breweries as well.
---
Chad Yakobson, Founder/Brewmaster, Crooked Stave Artisan Beer Project, Denver, CO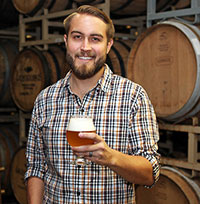 Chad obtained a BSc in Horticulture Science before going on to study Viticulture and Oenology in New Zealand. He then switched his focus to the brewing industry concentrating on various micro-organisms present during barrel-aging of sour beer.
In 2010 Chad completed his master's thesis, titled: Primary Fermentation Characteristics of Brettanomyces Yeast Species and Their Use in the Brewing Industry, and was awarded a Master of Science in Brewing and Distilling from Heriot-Watt University and the International Centre for Brewing and Distilling in Edinburgh, Scotland.
Founded in Denver, CO in late 2010 as an artisan beer project, Crooked Stave is the culmination of brewmaster and "Brettanomyces Guru" Chad Yakobson's open source Master's research, The Brettanomyces Project. Crooked Stave's progressive approach to brewing blends science and art through creativity and passion. The resulting creations, most of which use Brettanomyces yeasts and mature in oak, are beers of extraordinary complexity.
---
Nile Zacherle, Founder and Brew Master, Mad Fritz Brewing Co.
Nile began brewing at home in 1990, which pushed him to get a BS in Fermentation Science at UC Davis in 1997.
While at UC Davis, Nile also completed the Master Brewers Program. He began brewing and directing quality at Anderson Valley Brewing Company in Northern California.
In 1999 he moved on to assisting winemakers in Australia, France and back in Napa Valley. Nile currently makes wine for David Arthur Vineyard as well as operating Mad Fritz Brewing Co.
Mad Fritz began in 2014 and was named after his two children Madeleine and Fritz. Their focus is on growing their beers by malting and brewing with a 'Farm to Foam' approach.  The sourcing of single variety barleys that are craft-malted with an origin, as well as hops and water sourcing defines the beer styles in what they call 'Origin Beer'.
Note: This seminar will accommodate 100 people. Your seat can be guaranteed by purchasing a reserved seat on the Purchase Tickets page.
---
Technical Track II: "Adventures In Babysitting Barrels"


Andy Parker, Special Projects Manager & Barrel Herder, Avery Brewing Co.
---
Saturday 1:15–2:05 pm  Location: Imperial Ballroom, Beaver Run Conference Center
In this beer-infused seminar, we'll investigate a day in the life of debarreling. How do we pick which barrels go into a large blend of 100% barrel aged sour beer? We will taste six samples… the blended base beer, samples from three barrels that didn't make the cut, and the two bottled products that resulted from the base beer.
Andy Parker, Special Projects Manager & Barrel Herder, Avery Brewing Co.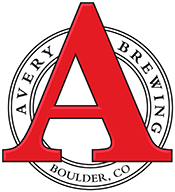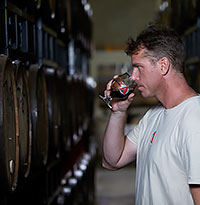 As "chief barrel herder" for Avery Brewing Co., Andy oversees one of the more expansive barrel-aging programs of any brewery in the US. He and his crew manage a field of around 3,000 oak barrels, producing both clean and sour beers, one-offs and constant releases, all while running new experiments on a daily basis.
Parker is well-known among professionals as a consummate brewer's brewer, with a deep knowledge of mixed-culture fermentation and a finely honed palate. Despite his penchant for brewing 15%+ barrel-aged stouts, Parker consumes more pilsner than any other style of beer.
---
Patrick Combs, Mad Sensory Scientist, Avery Brewing Co.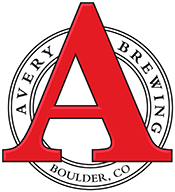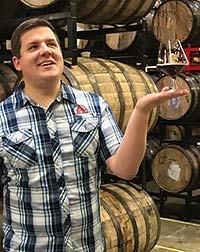 Patrick Combs is on a lifelong quest to understand what makes a beer world-class on a molecular level.
As the Mad Sensory Scientist in Avery's Quality Department, he spends his days smelling, tasting, and thinking about beer.
Like many other industry professionals, Combs discovered a love for beer when he began homebrewing over a decade ago. He quickly discovered that some beers could be a life changing experience with complexity and depth, while others had strange and unusual off-flavors.
In February 2017, Combs joined the ranks of less than 100 people to successfully pass the Advanced Cicerone™ exam. He hopes to continue his quest for beer knowledge by sitting for the Master Cicerone® exam in 2018.
Note: This seminar will accommodate 100 people. Your seat can be guaranteed by purchasing a reserved seat on the Purchase Tickets page.