---
Slides: Demystifying Water Profiles
Experimental Brewing: "High Gravity and High Elevation: The Impacts of Water Chemistry on Aroma, Flavor, Texture and Style"
---
Saturday 9:00–11:00 am  Location: Imperial Ballroom, Beaver Run Conference Center
Our earliest seminar on Saturday morning is the Experimental Brewing Seminar, running from 9:00am – 11:00am. The result of a brainstorming session geared toward including innovative brewers who are mapping out the future of craft brewing, but may not be geared toward packaging or nationwide marketing, the Big Beers Festival is pleased to host "High Gravity and High Elevation: The Impacts of Water Chemistry on Aroma, Flavor, Texture and Style."
Demystifying Water Profiles:The Power of Minerality and Flavor Expression in Brewing 
Water: the most obvious and overlooked brewing ingredient. Join Nile Zacherle of Mad Fritz Brewing Co., Nick Ison & Matt Ruzich of Sierra Nevada Brewing Co., and Chad Yakobson of Crooked Stave Artisan Beer Project as they unveil the results of their experimental water project with 4 distinct beer styles. Check out the break down of their research on what different water treatments do to these styles including technical lab and sensory analysis. Will Cayler, also hailing from Sierra Nevada, will moderate as well as offer his technical insight on how much difference water can really make!
Presenting Panelists:
Nile Zacherle, Founder and Brew Master, Mad Fritz Brewing Co.
Chad Yakobson, Founder/Brewmaster, Crooked Stave Artisan Beer Project
Nick Ison, Sierra Nevada Brewing Company
Matt Ruzich, Sierra Nevada Brewing Company
Will Cayler, Sierra Nevada Brewing Company
---
Nile Zacherle, Founder and Brew Master, Mad Fritz Brewing Co. 
Nile began brewing at home in 1990, which pushed him to get a BS in Fermentation Science at UC Davis in 1997.
While at UC Davis, Nile also completed the Master Brewers Program. He began brewing and directing quality at Anderson Valley Brewing Company in Northern California.
In 1999 he moved on to assisting winemakers in Australia, France and back in Napa Valley. Nile currently makes wine for David Arthur Vineyard as well as operating Mad Fritz Brewing Co.
Mad Fritz began in 2014 and was named after his two children Madeleine and Fritz. Their focus is on growing their beers by malting and brewing with a 'Farm to Foam' approach.  The sourcing of single variety barleys that are craft-malted with an origin, as well as hops and water sourcing defines the beer styles in what they call 'Origin Beer'.
---
Chad Yakobson, Founder/Brewmaster, Crooked Stave Artisan Beer Project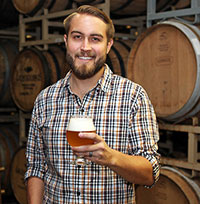 Chad obtained a BSc in Horticulture Science before going on to study Viticulture and Oenology in New Zealand. He then switched his focus to the brewing industry concentrating on various micro-organisms present during barrel-aging of sour beer.
In 2010 Chad completed his master's thesis, titled: Primary Fermentation Characteristics of Brettanomyces Yeast Species and Their Use in the Brewing Industry, and was awarded a Master of Science in Brewing and Distilling from Heriot-Watt University and the International Centre for Brewing and Distilling in Edinburgh, Scotland.
Founded in Denver, CO in late 2010 as an artisan beer project, Crooked Stave is the culmination of brewmaster and "Brettanomyces Guru" Chad Yakobson's open source Master's research, The Brettanomyces Project. Crooked Stave's progressive approach to brewing blends science and art through creativity and passion. The resulting creations, most of which use Brettanomyces yeasts and mature in oak, are beers of extraordinary complexity.
---
Nick Ison, Sierra Nevada Brewing Co.
Nick's amateur brewing career began shortly after moving to Salt Lake City in 1998 to pursue a graduate degree in biochemistry.
He quickly discovered two things that would shape his life; it's hard to buy good beer in Salt Lake and snowboarding is way more satisfying than lab work. Luckily, what was lacking in good beer at the store was more than made up for by a prolific and talented community of homebrewers that Nick quickly became a part of.
It wasn't long before homebrewing just wasn't enough, so in 2001 Nick moved to California to study brewing at the UC Davis Master Brewers program.
After graduating, he was fortunate enough to land a job working in the cellar department at Sierra Nevada Brewing Co. Shortly after, Nick moved to the brewhouse where he worked for almost twelve years. In 2014 Nick took on his current role running Sierra Nevada's barrel aged beer program.
---
Matt Ruzich, Sierra Nevada Brewing Co.
Matt manages pilot brewing, barrel-aging, and new brand innovation for Sierra Nevada Brewing Company in Mills River, North Carolina.
An artist at heart, he graduated from the University of Central Missouri with a degree in Fine Arts in 2002. He is certified by the World Brewing Academy, having completed the Advanced Brewing Theory program, and is currently pursuing a Diploma in Brewing from the Institute of Brewing and Distilling.
Born and raised in the Midwest, creativity has always come naturally to Matt; from childhood doodling and street murals to culinary work and professional gallery showings. Despite his proclivity toward fine arts, a career in commercial art was never appealing and he decided to pursue a different path in one of his other passions — beer.
He was hired as a technician at Boulevard Brewing Co. in 2005 and quickly discovered that brewing beer was the perfect way to combine his artistic talents and love of beer. After nine years working for Kansas City's oldest craft brewery, he and his family moved to the mountains of western North Carolina in 2014 to help open Sierra Nevada Brewing Company's east coast brewery location.
Today, Matt is a proud to champion Ken Grossman's legacy and the craft beer movement he pioneered thanks to a steadfast commitment to quality, innovation, and sustainability. As Head Pub Brewer for Sierra Nevada, he leads a brilliant team of brewers to create innovative and traditional beers that are enjoyed worldwide.
---
Will Cayler, Research Analyst, Sierra Nevada Brewing Co.
Will received his B.S. degree in biochemistry, and first started at Sierra Nevada Brewing Co. in 2015 in research and development.
He works on ensuring the highest quality in new products, and his current work focuses on the flavor and physical stability of beer and analytical quantification of beer and wort.
Will narrows this field further to focus on colloidal interactions, innovation in brewing processes relating to haze and clarity, elemental analysis and hop acid quantification.
Note: This seminar will accommodate 100 people. Purchase Your Seat now.